INNERGY CORPORATE YOGA NEWSLETTER - JANUARY 2010

INNERGY INSIGHT


No Space for Yoga? No Problem!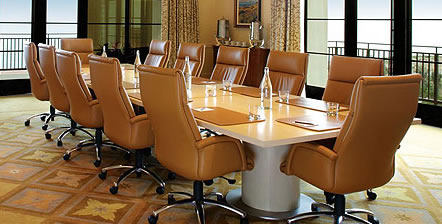 Got a big boardroom table that you can't move? Use it! Check out our new


"Boardroom Yoga" classes. Contact us today to innergize YOUR workplace.
---

Not Getting what you want out of YOUR yoga class?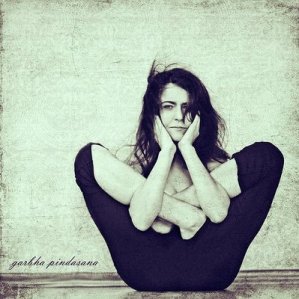 Don't have enough time to even get to yoga class? Most of us don't.

Try one of our Private Yoga Sessions at your home or office and get more one on one attention than you'll ever get at a public class. Plus, save time, avoid parking hassles and more.

Contact us today to get started.


---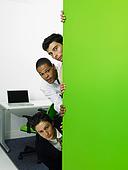 NEW!
CLIENT PROFILE OF THE MONTH:
UBC Alumni Affairs - Vancouver, BC

The gang at the Alumni Affairs department of the University of British Columbia in Vancouver, BC, has been doing corporate yoga classes with us twice a week for the last four years. They are an extremely dedicated group and love their classes. We recently chatted with Christina, our group organizer at this location, to see why they do yoga at work.

INNERGY: Why does your group do corporate yoga?

CHRISTINA: "When I joined 17 months ago the program was already in place. I believe it came about in part to UBC's dedication to work/life balance and healthy workplace initiatives, as well as our VP being an ex semi-professional athlete and as such a strong supporter of this sort of activity. They like to encourage good behaviors and therefore want to give staff the opportunity to partake in this kind of class during the working day. It gets busy people away for the desk for an hour, gives the mind an hour to relax and rejuvenate and increases productivity for the rest of the day. The participants have various reasons for doing the classes – most for health and wellness reasons, and because busy social lives or home lives make after work classes difficult."


INNERGY: What is your favorite part of our corporate yoga classes?
CHRISTINA: "Like most people, it would probably be the relaxation at the end! I think many appreciate the break from the desk and the working day, lack of necessity to go to a class after work, generally better feeling in the body in the afternoon due to the stretches, and the chance to de-stress in the middle of the day."
INNERGY: What benefits do you see from participating in these classes?
CHRISTINA: "Well, all the obvious benefits one would expect to get from any yoga class. Additional benefits of corporate yoga are as per my answer above."
INNERGY: Would you recommend our service to others? Why?
CHRISTINA: "The class comes to you – so yes, as the convenience is one of the best things! The teachers are great, you are always happy to adapt to our schedules if we need to adjust, and change the teachers if we feel we need a more/less 'vigorous' work out. "


---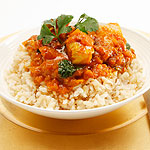 NEW!
WORKPLACE RECIPE OF THE MONTH:
Halibut and Spinach Curry

Courtesy: Canadian Living

Make this curry for dinner the night before, then pack the leftovers in a container and reheat at work.

Filled with calcium rich spinach, nutritious halibut and loads of beneficial spices, like turmeric and coriander. Try it with brown rice for extra fibre. This recipe is easy and quick to make, low in fat and high in protein.
Halibut and Spinach Curry

1-1/2 lb (750 g) halibut (or other firm-fleshed white fish)
2 tbsp (25 mL) vegetable oil
1 small onion, diced
2 cloves garlic, minced
2 tbsp (25 mL) mild curry paste
1 tbsp (15 mL) minced gingerroot
Half jalape?epper (optional), minced
1 tsp (5 mL) ground coriander
1/2 tsp (2 mL) salt
1/4 tsp (1 mL) ground turmeric
4 cups (1 L) baby spinach (about one 170 g bag)
3/4 cup (175 mL) crushed tomatoes
1 tbsp (15 mL) lemon juice
Preparation:
Remove skin (if any) from halibut; cut fish into 1-1/2-inch (4 cm) cubes. Set aside.

In large skillet, heat oil over medium heat; cook onion, garlic, curry paste, ginger, jalapeno (if using), coriander, salt and turmeric, stirring occasionally, until onion is softened, about 6 minutes.

Add spinach; cook, stirring, until wilted, about 2 minutes.

Stir in tomatoes and 1 cup (250 mL) water; bring to boil. Add fish; reduce heat and simmer, stirring occasionally, until fish flakes easily when tested, about 8 minutes. Stir in lemon juice.


*Watch for our NEW workplace recipe every month. It will be something you can make the night before and bring to work for lunch, a healthy snack you can take with you and more.

Got a recipe idea? Email us.


---
Coming soon . . .

Our very first workshop: Yoga at Your Desk. ™ Watch for details of this program in our upcoming February newsletter.



---
JANUARY'S HEALTHY WORKPLACE POSE

Seated Neck Stretch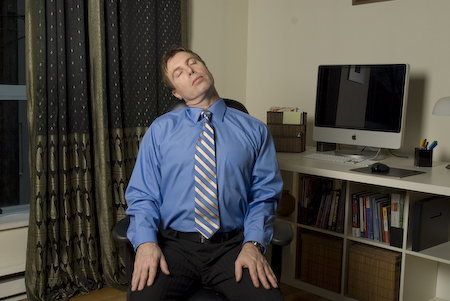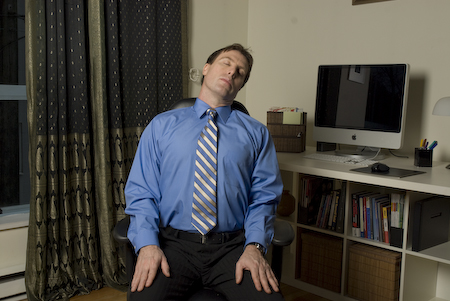 BENEFITS
Stretches neck and shoulders, reduces tension and relieves tired muscles, promotes better posture, increases circulation to brain and facial muscles, increases energy, reduces overall stress and promotes a deep feeling of relaxation.


INSTRUCTIONS

Step 1: Sit in your chair, feet flat on the floor, legs at a 90 degree angle. Contract your abdominal muscles just slightly, lift up through your chest and lengthen your spine. Drop your shoulders down your back.

Step 2: Place your hands on your thighs. As you inhale, lengthen through the crown of your head a little more, and as you exhale, gently lower your right ear toward your right shoulder. Relax your right shoulder and drop it down away from your right ear.

Step 3: (Not Shown) Optional: To move deeper, release your left hand to the underside of your chair and gently hold on as you stretch deeper, maybe even leaning slightly to the right.

Step 4: Stay here, breathing in and out, for at least 30 seconds.

Step 5: Inhale and lift your head and body back to center. Exhale, lower your left ear toward your left shoulder. Repeat steps 3 and 4 on this side.

Step 6: To come out, inhale your head and body back to center. Give your shoulders a shake, and repeat again on both sides if you have time.



---
NEWS & VIEWS

Do Yoga to Ward off Colds and Flu this Season
Read the full article here

How Yoga can help you keep your New's Year's Resolutions
Read the full article here

44-year old Paralyzed Man Uses Yoga to Help Himself
Read the full article here

L.A. Mayor Credits Yoga for his Well-Being
Read the full article here

Some Common Yoga Misconceptions and how we can Change Them
Read the full article here

People who Practice Yoga Gain Fewer Pounds
Read the full article here

Yoga Can Reduce Inflammation in the Body
Read the full article here


---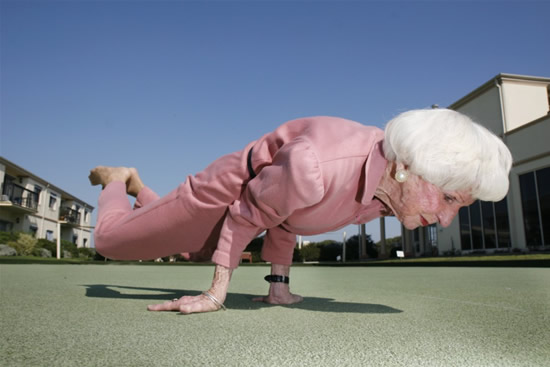 Get inspired with this photo.
Amazing!

Click here to see a larger image.


---

Need one more reason to do yoga? Get inspired by watching this movie trailer for "YYoga".


---

For more information on how to bring the benefits of yoga to your Vancouver, Lower Mainland or Kamloops, British Columbia workplace, click here.