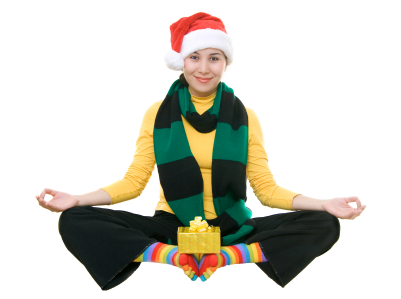 Christmas is a little over a month away. Are you looking for the perfect gift for health conscious friends or family members?

If you sign up for any yoga package with us before November 30th, you'll get 10% off AND we'll give you three $100 gift cards* to Innergy Corporate Yoga as stocking stuffers for free!

Email us at info@innergycorporateyoga.com to take advantage of this fantastic offer, and to schedule your free consultation!

*Offer for new clients only. Gift cards for new clients only. Only one card may be used per client.


---
OWN AN INNERGY YOGA FRANCHISE

Are you looking for a unique income opportunity that is rewarding? We are looking for the right franchise partners in 10 areas across Canada. If you have a strong sales and marketing background and excellent leadership skills, this part-time opportunity might just be for you.

For more information on our yoga franchise, go here.


---
NOVEMBER'S HEALTHY WORKPLACE POSE
Neck Stretch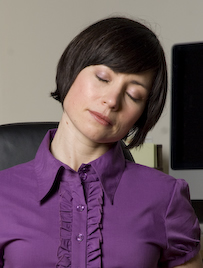 BENEFITS

Stretches neck and shoulders, reduces tension and relieves tired muscles, promotes better posture, increases circulation to brain and facial muscles, increases energy, reduces overall stress and promotes a deep feeling of relaxation.


INSTRUCTIONS

Step 1: Sit in your chair, feet flat on the floor, legs at a 90 degree angle. Contract your abdominal muscles just slightly, lift up through your chest and lengthen your spine. Drop your shoulders down your back.

Step 2: Place your hands on your thighs. As you inhale, lengthen through the crown of your head a little more, and as you exhale, gently lower your right ear toward your right shoulder. Relax your right shoulder and drop it down away from your right ear.

Step 3: (Not Shown) Optional: To move deeper, release your left hand to the underside of your chair and gently hold on as you stretch deeper, maybe even leaning slightly to the right.

Step 4: Stay here, breathing in and out, for at least 30 seconds.

Step 5: Inhale and lift your head and body back to center. Exhale, lower your left ear toward your left shoulder. Repeat steps 3 and 4 on this side.

Step 6: To come out, inhale your head and body back to center. Give your shoulders a shake, and repeat again on both sides if you have time.


---

THIS MONTH'S WORKPLACE RECIPE
Glory Bowl


This hearty recipe is simple, healthy and very tasty!

It was named after a favourite ski bowl at Whitewater Ski Resort in Nelson, B.C. and created by BC chef Shelley Adams.

The dressing is especially flavorful.
Ingredients
2 tbsp (30 mL) vegetable oil
2 cups (500 mL) cubed extra-firm tofu
8 cups (2 L) hot cooked brown rice
2 cups (500 mL) grated carrots
2 cups (500 mL) grated beets
2 cups (500 mL) packed baby spinach leaves
2 cups (500 mL) slivered almonds, toasted
Glory Bowl Dressing:
1/2 cup (125 mL) nutritional yeast flakes
1/3 cup (75 mL) Tamari or soy sauce
1/3 cup (75 mL) apple cider vinegar
1/3 cup (75 mL) water
2 tbsp (30 mL) tahini
2 cloves garlic, crushed
1-1/2 cups (375 mL) vegetable oil
In large skillet, heat oil over medium-high heat; fry tofu, stirring often, until brown and crispy, 10 minutes. Drain on paper towel–lined plate.

Glory Bowl Dressing: In blender, purée together nutritional yeast flakes, tamari, vinegar, water, tahini and garlic. With motor running, add oil in slow, steady stream. Blend until smooth. (Make-ahead: Cover and refrigerate for up to 1 week.)

To serve, divide rice among 8 bowls; drizzle each with 1 tbsp of the dressing. Top each with tofu, carrots, beets, spinach and almonds. Drizzle each with 3 tbsp of the dressing.

Source: Canadian Living


---

NEWS & VIEWS


FREE Yoga for Schools Program - Read more

Start an Innergy Yoga Franchise - Read more

We're Hiring! Read more

Need a little humour? Try this Deepak Chopra random generator

"Like"us on Facebook for giveaways, contests, free workplace wellness tips and more.


For more information on Corporate Yoga at your workplace in Canada, click here.