PLAY, IMAGINE, PRACTICE

Yoga isn't just for adults. Thousands of children around the world practice yoga to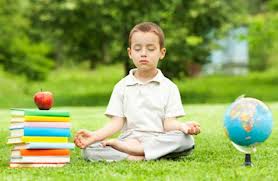 boost confidence, increase awareness, learn how to calm themselves down, reduce anxiety and much more.

Unlike yoga classes for adults, kids' yoga classes involve games, usually a theme, lots of exploration, adventure and fun.

In a world that is sometimes big and scary, yoga brings peace and a sense of connectedness to children. It allows them to develop problem solving skills, hugely develops and expands imagination and physically, improves flexibility, balance and strength. We think Yoga for Kids is a pretty beautiful thing.

As part of our expansion across Canada, we're excited to be offering a FREE Yoga for Schools program. It's currently available in Vancouver, the entire Lower Mainland, Kelowna and Kamloops. To book a free 30-60 minute yoga class at your school, contact us. To get yoga into your child's school, have the school contact us.

It's our way of giving back.

Innergy Corporate Yoga


Looking for Yoga in Kelowna?


---
MAY'S HEALTHY WORKPLACE POSE
Downward Facing Dog (using chair)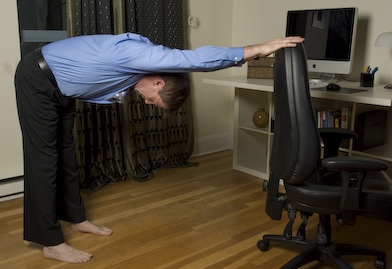 BENEFITS
Stretches spine, back of legs, ribcage and more, relieves back tension, facilitates deeper breathing and more.

INSTRUCTIONS
Step 1: Remove your shoes and socks if possible. Stand behind your chair with your hands on the back of the chair, about shoulder width apart. Take a few steps backward with both feet until your legs are perpendicular to the floor and your back is straight. (Your back and legs will be at a 90 degree angle with each other and you will be looking straight down at the floor.) Let your head relax.

Step 2: Take a deep inhale, and as you exhale, press your hips and sitting bones back to the wall behind you. Pull your abdominal muscles in and feel your spine stretching and lengthening. Breathe.

Step 3: Spread your fingers apart. Relax your shoulders and let them roll out and away from your ears.

Step 4: Hold for 5 deep breaths if you can, then to release, walk your feet slowly forward and stand up straight. Release your arms down to your sides and stand in Tadasana (Mountain Pose) for 3 breaths with your eyes closed. Breathe slowly and deeply, and enjoy how you feel.

---

THIS MONTH'S WORKPLACE RECIPE
Whole Grain Mini Pizzas


Raw spinach or kale leaves make a surprising pesto for this good-for-you pizza.

Pack this to work for a lunch with a green salad and a simple dressing of olive oil, apple cider vinegar and garlic.
Ingredients

2 cups packed chopped raw spinach or kale leaves
1/2 cup walnuts
2 tablespoons nutritional yeast
1 tablespoon lemon juice
1 clove garlic
1/4 teaspoon freshly ground black pepper
4 sprouted 100% whole grain English muffins, split
4 ounces sliced button or cremini mushrooms
2 plum tomatoes, seeded and chopped
1/2 cup shredded part-skim mozzarella cheese


Method


Preheat oven to 425°F. Place kale, walnuts, yeast, lemon juice, 2 tablespoons water, garlic and pepper in the bowl of a food processor and pulse until you have a coarse paste. Arrange muffin halves on a large baking sheet. Spread kale pesto on muffins and top with mushrooms, tomatoes and cheese. Bake until muffins are crisp and cheese is melted, 20 to 25 minutes.

Source: Wholefoods Market

---

NEWS & VIEWS


How to Use Yoga Wisdom at Work - Read article

Yoga May Lower Blood Pressure - Read article

Top 10 Yoga Poses for Men - Watch video


"Like"us on Facebook for giveaways, contests, free workplace wellness tips and more.


For more information on Corporate Yoga at your Vancouver, Lower Mainland, Kelowna or Kamloops, British Columbia workplace, click here.