It's baaaaaack.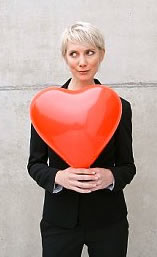 Windows fill with heart-shaped decals, everything seems to be available in red and pink, and those spicy little cinnamon heart candies re-emerge for another year.

Dinner reservations become hard to secure, flower shops get back-logged lists, and the pressure is on to find the perfect gift or card or date.

It's almost enough to make us forget that we're supposed to be celebrating LOVE. So how do we re-connect to the essence of Valentine's Day?
Take a deep breath into your BELLY and
then send it up into your HEART.
Maybe the best thing you can offer as a symbol of your affection is your presence. So that those you love most really feel it, not because of the gifts that you give but because of the gift of your time. How can you use your yoga practice to ground yourself in the present so this is your point of departure? Maybe there is a pose, a breath technique, or a simple saying that helps you connect to this moment. So get centered in yourself so that instead of presents, you can give your valentine presence.


And if you find yourself swinging solo this year as cupid flits about, become your own best valentine. Pause to reflect on all those things that you absolutely love about yourself. Write yourself a love letter. Take the opportunity to connect to all that is wonderful about you. Be present with yourself – and then get yourself the Valentine's Day gift you always wanted but that no one else knew you well enough to supply.


So this year, instead of getting wrapped up in the whirlwind of Valentine's Day, stop. Take a deep breath into your belly and then send it up into your heart. Connect, get grateful. Then say your I love you's.