Go Ahead . . . Wave to a Stranger!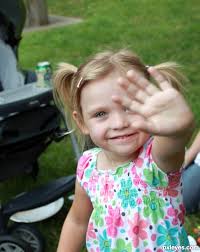 When I was a child traveling in the backseat of my car with my family, my two sisters and I would try to get the attention of the motorist behind us by waving to them. Our goal was to make them wave back.

It was a fun game for us.

My parents would always tell us to stop. But when they weren't looking, we would sneak our hands up and frantically wave again, hoping that this time . . .

And then . . . they would be waving back at us! And even smiling too!

We were always delighted that we had "made" them wave.

This may seem like a childish game, but the other day, a small boy was crossing on a crosswalk in front of my car, when he stopped and waved at me. At first I wasn't sure who he was waving at, so I didn't pay him much attention, ignoring his heartfelt attempt to make me wave back. I had been running late for something that day and was off in my head somewhere, thinking about all the things I had to do that day.

But then I looked at him again. He had stopped in the middle of the crosswalk and was staring right at me . . .

I immediately felt my guard go down and I lifted my hand to the window, waving, as a small smile crept onto my lips. He smiled back, still not moving. Then, he continued on his way.

For that brief moment, I'd like to think that I connected with a total stranger. Or was he?

Don't we all crave that deep sense of connection? And when we find it, we may try to deny it, but deep down, I think we enjoy connecting with people that we don't know.

After all, everyone in our lives was a stranger before we got to know them . . .