APRIL 2015


INNERGY INSIGHT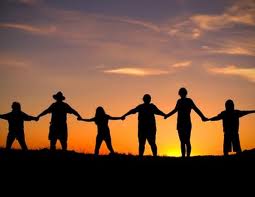 We are meant to be social creatures. It's as simple as that.


Socializing with others gives us a sense of connection, promotes a longer life span (it's true!), makes us feel more positive about life in general and boosts happiness, all while warding off things like depression and anxiety.


Here are 3 ways you can connect more with others so you can be healthier and happier:

(1) Find a volunteer opportunity - Helping others in the community for an exchange of your time and not money is the fastest way to feel like you are making a difference in someone's life. What's your passion? Is it animals, helping the homeless or working with cancer survivors? Do you have skills that organizations could benefit from, such as fundraising, administrative skills or cooking? Pair yourself with the right organization and start making a difference that will benefit YOU too. Be realistic about the time you can invest to volunteer but do something and start soon.


(2) Give back at work - See if there is an opportunity for you to volunteer your time at work. This may sound crazy, but could you get your company involved with a non-profit organization? Would your boss be willing to do a food drive for the local food bank? Activities like Jeans Day raises awareness of specific causes while allowing employees to have fun at work. Be creative and find something you're passionate about. Not only will it encourage other staff to help you, it will be fun and I bet the boss will notice too.


(3) Build (and keep) friendships - You don't have to be friends with everyone you meet; maybe you have 2 or 3 close friends. The point it, make time each week if possible to see your friends. It could be coffee, lunch, a hike, a play date with your kids or something else. Yes, it takes effort and time, but you know you'll be much happier afterward that you did it.


---
April's Healthy Workplace Video
Seated Forward Bend
BENEFITS

Stretches entire back and neck, creates space in spine, increases blood flow to facial muscles and brain, reverses flow of gravity and aging process, reduces stress, rejuvenates body, increases energy and more.

INSTRUCTIONS

Step 1: Sit slightly forward in your chair, feet flat on the floor, legs at a 90 degree angle. Contract your abdominal muscles slightly, lift up through your chest and lengthen your spine. Drop your shoulders down your back.

Step 2: Place your hands on your thighs and take a deep inhale. As you exhale, fold forward, draping your body over your legs. Slide your hands down toward the floor and hold each elbow with the opposite hand. Let your arms rest into your legs. Let your body hang heavily over your legs. Let your head relax completely.

Step 3: Take 3-5 deep breaths, inhaling deeply into your back, and with each exhale, let your body get heavier. Completely immerse yourself in this stretch.

Step 4: To come out, release your hands and let your arms slide toward the floor. Place your hands on your knees, and as you inhale, ragdoll yourself up to a seated position, letting your head be completely heavy. When you reach the top, roll your shoulders up, back and down, and sit quietly for a few moments with your eyes closed. Open your eyes and return to work.


---
Workplace Recipe of the Month
Sweet Potato-Peanut Bisque
Ingredients
2 large sweet potatoes (10-12 ounces each)
1 tablespoon canola oil
1 small yellow onion, chopped
1 large clove garlic, minced
3 cups reduced-sodium tomato-vegetable juice blend or tomato juice
1 4-ounce can diced green chiles, preferably hot, drained
2 teaspoons minced fresh ginger
1 teaspoon ground allspice
1 15-ounce can vegetable broth
1/2 cup smooth natural peanut butter
Freshly ground pepper to taste
Chopped fresh cilantro leaves for garnish
Preparation
Prick sweet potatoes in several places with a fork. Microwave on High until just cooked through, 7 to 10 minutes. Set aside to cool.
Meanwhile, heat oil in a large saucepan or Dutch oven over medium-high heat. Add onion and cook, stirring, until it just begins to brown, 2 to 4 minutes. Add garlic and cook, stirring, for 1 minute more. Stir in juice, green chiles, ginger and allspice. Adjust the heat so the mixture boils gently; cook for 10 minutes.
Meanwhile, peel the sweet potatoes and chop into bite-size pieces. Add half to the pot. Place the other half in a food processor or blender along with broth and peanut butter. Puree until completely smooth. Add the puree to the pot and stir well to combine. Thin the bisque with water, if desired. Season with pepper. Heat until hot. Garnish with cilantro, if desired.






Source: Eating Well


---
10 Ways to Boost Employee Productivity
Read more
25 Ways to get more done this week
Read more
Are you a Yoga Teacher?
We're hiring
Start a Yoga Franchise in Saskatchewan, Manitoba, Ontario, Quebec, New Brunswick or Nova Scotia Read more


For more information on how to bring the many benefits of Corporate Yoga to your Canadian workplace, contact us today.