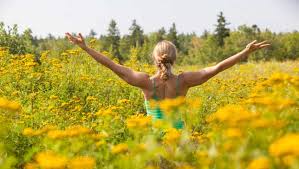 Spring is finally here ... it's time to get more active, start moving your body a lot more and maybe even take your yoga practice outside.
During winter, it's natural for you to "hibernate", staying indoors more, exercising less and doing a lot less physical activity in general.
Now that spring is here, more people are opting to be active outside, which is great. You can still keep yoga in your life though, along with golfing, running and whatever other activities you are involved in. After all, who wants to come back in September feeling stiff and tight?
Here are 5 suggestions for ways that you can keep yoga a part of your busy life this spring:


1.Do yoga at home - Either on your own, with a video OR hire a teacher to do private yoga sessions with you.
2. Take yoga to the beach - The beach is a great place to do yoga - warm, sandy and a great view.
3. Keep attending your classes - Wherever you go for yoga, don't stop! Keep yoga as a balanced part of your life and you'll still have plenty of time to get outside and enjoy the sunshine.
4. Less is more - If you'd rather spend your time outside than indoors doing yoga, shorten the time you allocate for yoga and do it MORE often. Still no time to fit yoga in? Get up 20 minutes earlier in the morning before you head to work and do a short practice on your mat.
5. Do yoga at work - A corporate yoga class is convenient, inexpensive and still allows you plenty of outdoor time. Most classes take place at lunchtime or after work.