A WORKSHOP TO TEACH YOUR STAFF HOW TO LAUGH AND LET GO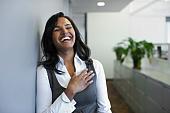 Inject your workplace with a playful and joyous spirit using Laughter Yoga. While very little yoga is done in this workshop, this Laughter in the Workplace session will help create an environment free of stress and full of positivity. Learn the science behind smiling and the anatomy of breathing and laughing. Bet you can't keep a straight face!

The benefits of laughter include:
reduced stress
increased feel good hormones in the body, like serotonin
improved immune function
circulation of more oxygenated blood throughout your body
feeling happier, more alert and more productive


Laughter in the Workplace is a 60 minute workshop for up to 30 people and includes a handout for each participant.
Rate: $195 + HST


PLUS . . . Want to book a refresher?
ADD 1 follow up Laughter in the Workplace workshop to be used anytime in the next three months for an additional $129 + HST.
(Must be added at time of purchase of initial workshop.)
Already a Corporate Yoga or Pilates client with us? You receive 15% off of all Workshop rates.



---